Miko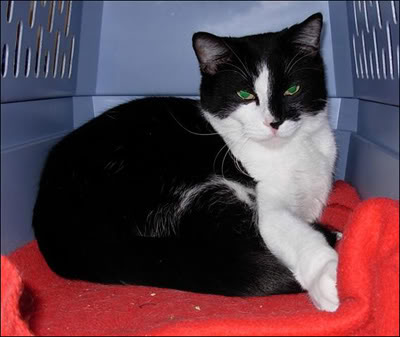 Sweet Miko passed away due to cancer, probably lymphoma, on January 7, 2019. He was one of PAW's sanctuary cats, living in a permanent foster home for the past ten years. There he thrived, was loved and adored and treated like royalty. It is difficult to say goodbye to one of our dears who should have been with us for several more years; however Miko lived a very full life and loved his people with all his little heart.
Miko
Color: Black and White
Age: Born June 21, 2007
Gender: Neutered Male
History:
Miko was adopted from PAW as a nine week old kitten. In January, 2009, he was taken to a veterinary clinic suffering from a urinary blockage. His people did not want to pay for his veterinary care and so decided to end his life. PAW was contacted and, of course, opted to save Miko's life (which also meant PAW had to cover all the veterinary costs) and place him back in the care of PAW. Urinary blockages are life-threatening but treatable. Blockages develop over a period of time and can be the result of feeding poor quality food or a food to which the cat has a sensitivity or an allergy. Other causes are insufficient water intake or a stressful environment. Miko recuperated in a foster home that was able to provide all the right stuff: appropriate food, a quiet sanctuary, a drinking fountain and above all, kindness. He made a full recovery both physically and emotionally.
Personality:
Miko's foster mom has a lot to say about this wonderful young cat: "Miko is curious and playful, exploring every shopping bag and box that comes into the house. He comes running when he hears the laser pointer being picked up no matter where he is. He spends hours at the windows, watching for birds, chattering excitedly when he spots one. Miko is intelligent and responds well to spoken requests. He prefers brief visits on a lap as opposed to long cuddles but he loves to be close to his people. He follows his foster mom around the house, supervising her housework and spends most of the night on the bed curled at her feet. In the morning, Miko climbs under the bed covers and snuggles close to her chest for a few minutes. He has a wonderful, rumbling purr." Miko likes to drink from a cat fountain and enjoys a dripping faucet too. Although Miko shares his foster home with other cats, he would prefer to be an only child.