Jackie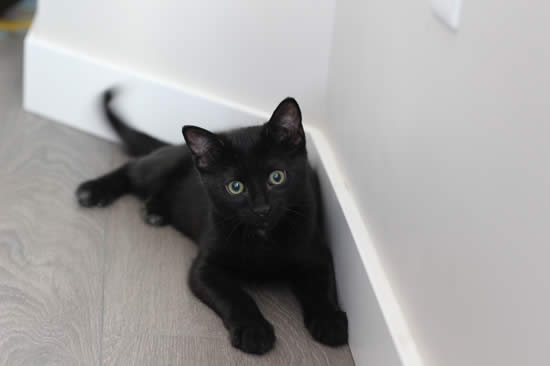 ADOPTION PENDING!
Jackie
Color: DSH Black (few white hairs on chest)
Age: Born April 2, 2017
Gender: Male
History:
Jackie is an owner surrender. Although much loved, when life circumstances changed, there was no where for Jackie to go. Be sure to accept the responsibility of a pet only when there is stability in your life. Remember, cats live long lives and could be with you for eighteen or more years!
Personality:
Do you remember how childhood was an adventure? Every day brought something new: intriguing, frightening, wondrous, exciting, mysterious. That's how Jackie is living each day of his life. This all black baby finds something dazzling in every moment. He is what kittens are - playful, curious, energetic, fun, affectionate and adorable. He will entertain you while he entertains himself, teach you about cats as he learns what he is and become your best friend as you become his. You see, Jackie is something else that a kitten is: longing for a person to protect and love him forever. This is the chance of a lifetime, for both you and Jackie. Live your childhood again with Jackie for the rest of his life.
You are welcome to fill out an Adoption inquiry here.