Channing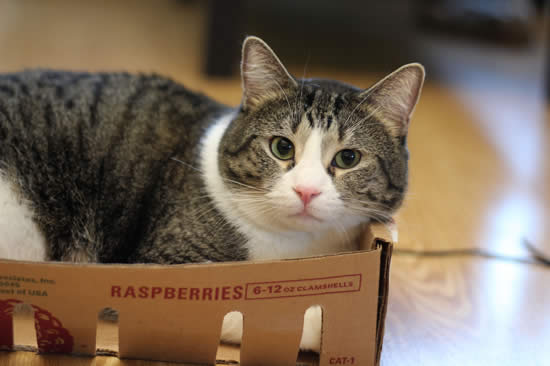 Adopted!
Channing
Color: DSH Tabby & White
Age: Born Approx. August, 2013
Gender: Neutered male
History:
A gentleman told us this tabby-boy was a stray that had been wandering around his condo complex. He'd taken him into his place for two weeks but didn't feel he could make it work. He had tried the animal shelter but was turned away due to no room. Reluctantly, we accepted the new cat even though there were no foster homes immediately available. He was thin and un-neutered but otherwise in good shape. Soon he was fully vetted. As you can see, he's a handsome boy with almost perfectly symmetrical tabby markings.
Personality:
You won't have to wonder what Channing wants, he'll tell you. He'll let you know when he's on his way to the litter box; he'll let you know when he's finished. He'll remind you that it's time for canned food. Sometimes, they say, he just talks to himself! Very aware of what's going on in his environment and cautious to begin with, Channing possesses a deep desire for relationships. That includes people but also cats. At the moment, he shares his foster home with Noah, another PAW foster kitty. Channing loves to wrestle with him although Noah isn't always up for such a vigorous play session. But the two cats get along very well and Channing respects Noah's level of involvement.
At the moment, Channing's favourite game is whack-a-mole where he pounces and grabs at a stick that his foster caregivers poke in and out of holes made in a cardboard box. He also likes to play with a string toy when the mood strikes. His foster family feels that Channing would love to have a safe outdoor space - maybe a catio or some kind of enclosure. They sometimes accompany him to their backyard on a harness and leash. And he always politely acknowledges the gesture. Channing has been on several trips to Calgary with his foster family and travels exceptionally well.
And finally, there's this: "He loves being woken up in the morning rather than doing the waking...this gets him so excited and happy!" Now, I ask, would there be any better way to start off your day?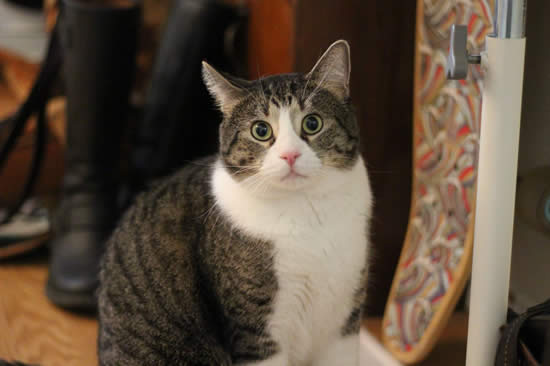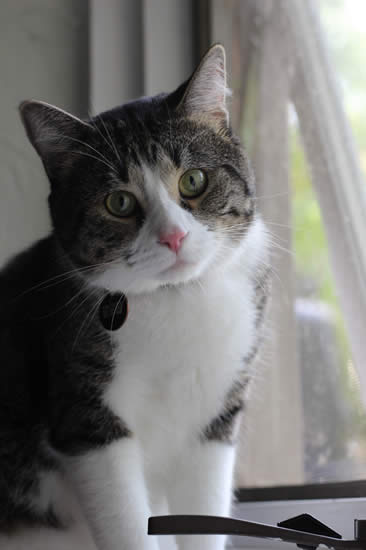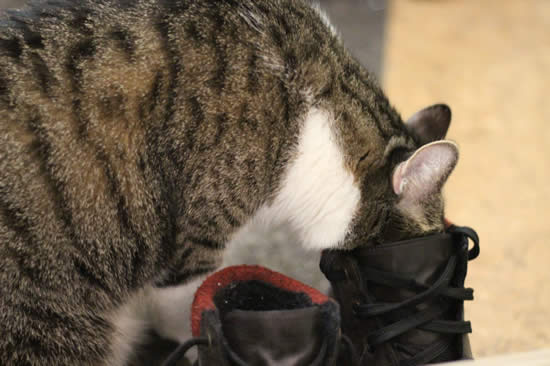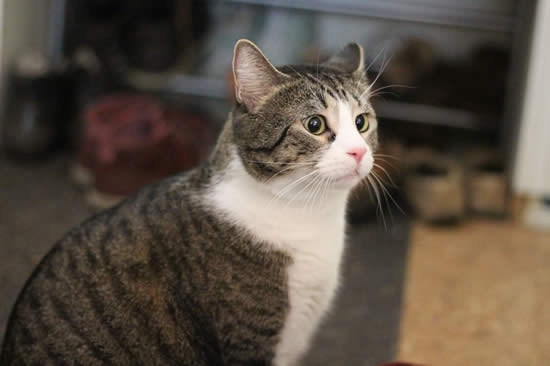 When he was first rescued: