Angel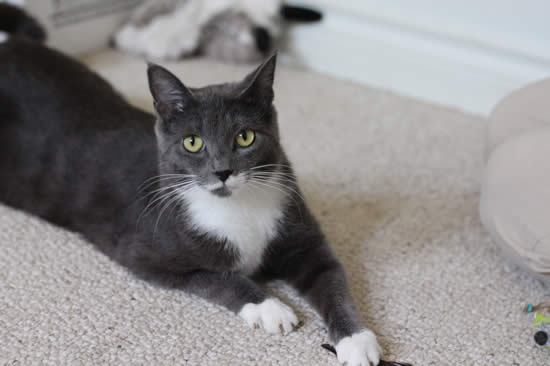 Angel
Color: DSH Gray and White
Age: Born Approx. July, 2016
Gender: Spayed Female
History:
Angel (new name) came to visit at the screened window of a home early one morning. One of the indoor resident cats had been sitting there, enjoying the sights and sounds of the start of a new day. When the homeowner went to investigate the cat chatter, she took note of this new little cat whom she'd never seen before. The following day, while walking the dog, she saw the gray and white kitty again, this time sitting on a neighbour's fence. When the cat heard a friendly "hi little girl", she jumped down and followed the kindly person home. Feeling quite confident that this sweet girl was an owned cat, the couple posted found ads and waited for her to be claimed. But sadly, no one did. Her rescuers are now her foster family. Although there's evidence she'd had a litter of kittens previously, she wasn't pregnant. Angel has been health checked, spayed and vaccinated.
Personality:
Says foster mom, "Angel is a very sweet and loving girl. She is gentle and affectionate, loves to cuddle and play with her catnip toys. She loves to chase you when you run!" Currently Angel is slowly being integrated with the resident cats and the dog and is doing very well (it's always a good idea to take those steps slowly). You can expect this sweet girl to be a wonderful addition to your family!
If you'd like to inquire about Angel, click here.