Angel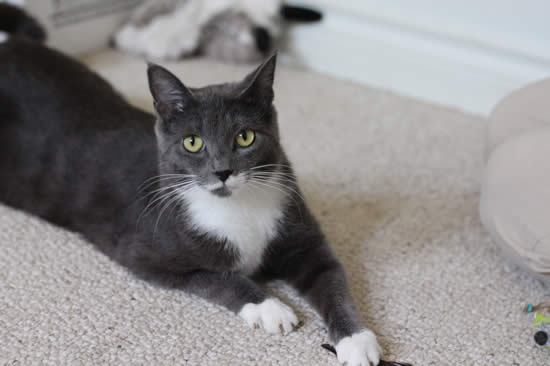 ADOPTED!
Angel
Color: DSH Gray and White
Age: Born Approx. July, 2016
Gender: Spayed Female
History:
Angel (new name) came to visit at the screened window of a home early one morning. One of the indoor resident cats had been sitting there, enjoying the sights and sounds of the start of a new day. When the homeowner went to investigate the cat chatter, she took note of this new little cat whom she'd never seen before. The following day, while walking the dog, she saw the gray and white kitty again, this time sitting on a neighbour's fence. When the cat heard a friendly "hi little girl", she jumped down and followed the kindly person home. Feeling quite confident that this sweet girl was an owned cat, the couple posted found ads and waited for her to be claimed. But sadly, no one did. Her rescuers are now her foster family. Although there's evidence she'd had a litter of kittens previously, she wasn't pregnant. Angel has been health checked, spayed and vaccinated.
Personality:
Says foster mom, "Angel is a very sweet and loving girl. She is gentle and affectionate, loves to cuddle and play with her catnip toys. She loves to chase you when you run!" Angel's foster home already had several beloved resident cats so being the last one is...well....let's just say she'd probably prefer fewer roomies! But humans? Oh my, bring it on - she can't get enough of them! She loves tummy rubs and just being anywhere you are. She lets foster mom clip her claws with no problem whatsoever. She's an adorable little cat who would love the chance to be invited into a family of her very own.